Ready for the weekend?!?!
1. As you're reading this I am probably in the air headed towards Memphis for Firesides with my sweet President and Vice President! I'll have an update on Monday hopefully!
2. Guys, I am revisiting
The Office
and to watch Jim and Pam's relationship unfold makes me so mushy and grateful that Chris and I were always able to make things work even when we were about 500 miles apart! Seriously, if you really want to make it work, a long distance relationship can and will work!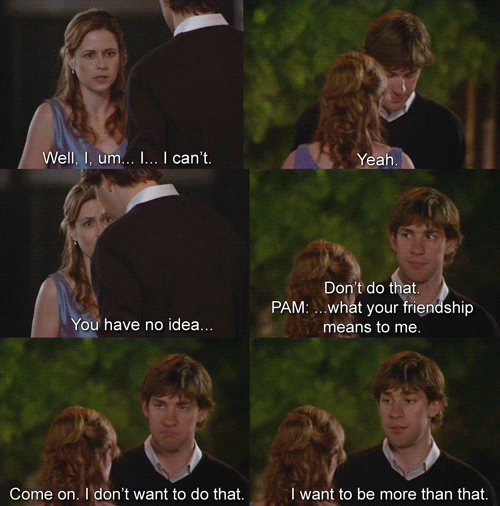 3. Speaking of TV Chris and I have been making our way through
Orphan Black
and we are obsessed! I can't stop watching it and I seriously have never had a reaction to a TV show like this, like it's so intense that I told Chris there was no way I could watch it on a plane because we would be arrested for causing a scene based on my reactions. yeah. that bad.
4. I'm really glad I got to shorten my week a bit but seriously Chris and I had something after work and school everyday! Next week is looking to be about the same! Ah!
5. One of those things was having our old friends from Baltimore over for dinner! It was a little stressful since I also had to pack for Memphis and get all the food ready but we made it work and we had such lovely time seeing them again! Chris made an awesome brisket and I made Brussels spouts and a baked potato casserole that my mom made for Christmas that is to diiiiieeeeee for! Recipe to come soon!
Hope you all have a very wonderful weekend and hopefully I'll be back here Monday!
Marisa